Back to News
Nebraska observes Renewable Fuels Month
By: Robert Pore
Published in Grand Island Independent on May 18, 2019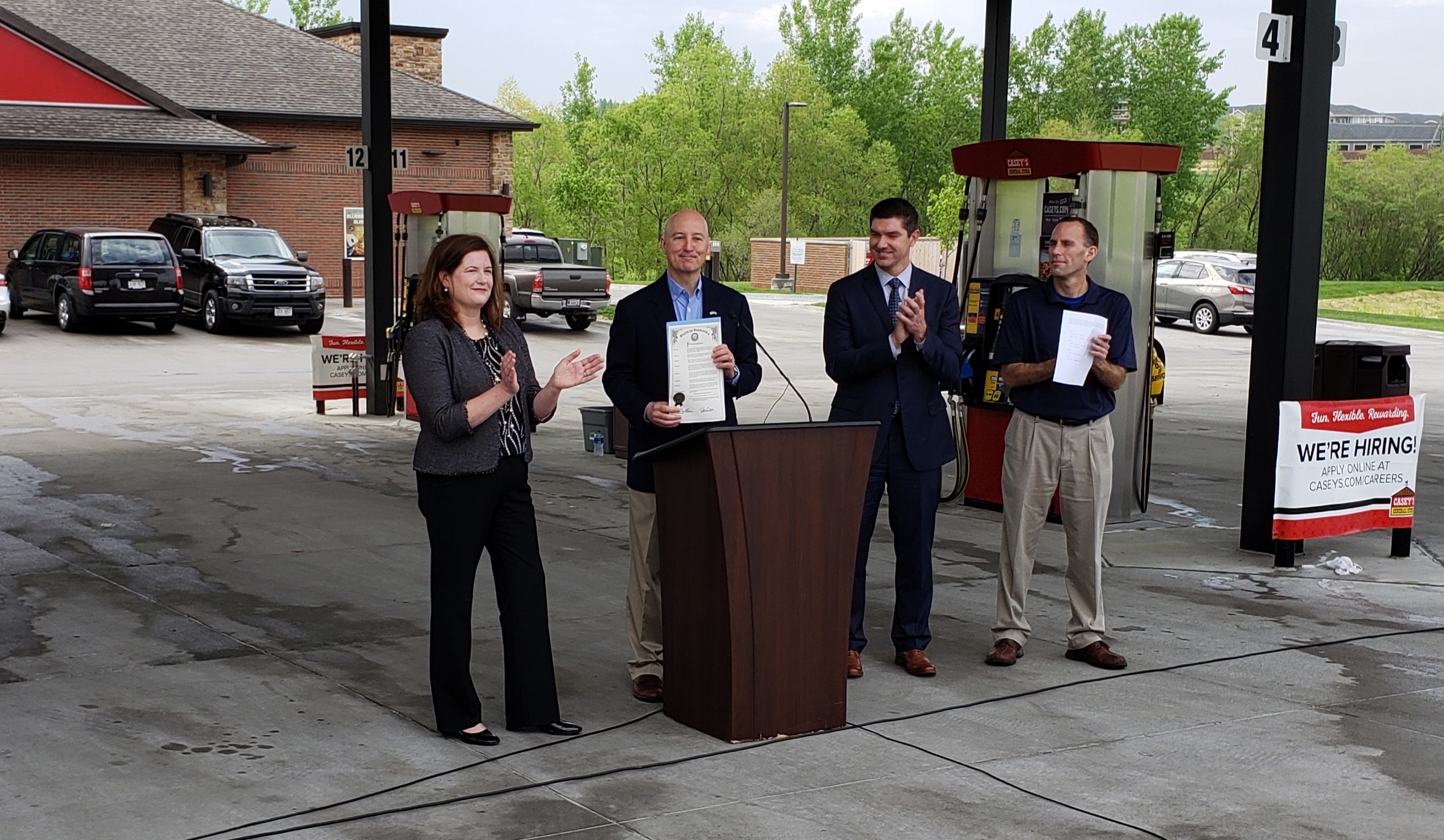 Gov. Ricketts proclaiming May as Renewable Fuels Month in Nebraska. Photo by: Troy Bredenkamp
Central Nebraska is one of the nation's leading areas for renewable fuel production.
There are more than a dozen ethanol plants scattered throughout area taking advantage of the region's powerhouse reputation as one of the leading corn growing areas in the country.
Overall, 25 ethanol plants in Nebraska employ more than 1,400 people. Most of those jobs are located in rural areas, such as Wood River, Ravenna, Central City, Ord and Aurora to name a few. According to the Nebraska Ethanol Board, the average salary of those jobs is more than $50,000.
Since 2006, Nebraska has recognized May as Renewable Fuels Month. On Friday, Gov. Pete Ricketts made the 2019 proclamation at a ceremony in Omaha.
According to the Nebraska Corn Board, more than 97% of all gasoline in the United States, is blended with locally-produced ethanol.
Nebraska's ethanol plants turn out 2.2 billion gallons of locally produced fuel each year. That production makes Nebraska the nation's second-leading ethanol producing state behind Iowa.
Having those ethanol plants in Nebraska makes sense as the state is the nation's third-leading corn producing state behind Iowa and Illinois. Corn for grain production in Nebraska last year was estimated at a record high 1.79 billion bushels, up 6% from 2017, according to the USDA's National Agricultural Statistics Service. A record yield of 192 bushels per acre is up 11 bushels from last year. Farmers harvested 9.31 million acres of corn for grain, up slightly from 2017. Corn acreage planted for all purposes is 9.60 million acres, up 1% from last year.
Nebraska's 25 ethanol plants use more than 700 million bushels of corn per year. They also produce more than 6.4 million metric tons of distillers grains, a high protein feed ingredient used for cattle.
Along with domestic use, Nebraska ethanol and distillers grain are leading export goods to the state's international trading partners.
According to the ethanol board, the state's plants represent a $5 billion economic impact in the state.
"Nebraska's ethanol industry benefits not only our state's farmers, but also our consumers and our nation's economy," said David Bruntz, chairman of the Nebraska Corn Board and a farmer from Friend.
Bruntz also said there is a vital environmental aspect to ethanol use.
"We're reducing greenhouse gas emissions and limiting cancer-causing toxic chemicals from entering into our atmosphere," he said. "Additionally, we're able to save money at the pump on higher-octane fuels."
And ethanol production is growing in the U.S.
The USDA reported earlier this month that corn use for ethanol expected to increase 1% during the 2019-2020 season with more than 5.5 billion bushels of corn going to ethanol plants.
According to the Renewable Fuels Association, U.S. ethanol exports achieved a new record in 2018 as 1.70 billion gallons of ethanol were shipped to more than 80 countries around the world. The 2018 export total beat the previous export record set in 2017 by 25%, and the data show that nearly 11% of total U.S. ethanol production was exported last year.
Brazil was the leading destination for U.S. ethanol exports, receiving 513.2 million gallons (mg), or 30% of the total. Canada was the second-leading market with 349.6 mg, followed by India at 156.8 mg. Together, the three countries accounted for 60%% of the total ethanol exports. The European Union, South Korea, and the Philippines were other top markets in 2018. Export volumes to nine of the top 10 destinations saw increases over 2017 amounts, with Brazil, the Netherlands, South Korea, the United Arab Emirates, and Colombia showing the most significant gains.
The value of U.S. ethanol exports was $2.7 billion in 2018, up 14% from 2017's value and the highest on record. Undenatured fuel ethanol accounted for 51% of total exports, while denatured fuel ethanol was 43%. Denatured and undenatured ethanol for non-fuel industrial uses made up the remaining 6% of exports.
According to RFA President and CEO Geoff Cooper, "More than one out of every 10 gallons of ethanol produced in the United States went into the international market—providing savings at the pump and cleaner air for drivers in more than 80 countries around the globe. This accomplishment is even more impressive when you consider that U.S. ethanol faced punitive trade barriers in several key markets. RFA will continue to work with its partners to break down artificial trade barriers, expand export opportunities for U.S. producers, and educate the world's consumers on the benefits of low-carbon renewable fuels."
Also, U.S. exports of distillers grains, which is a high-protein co-product of dry-mill ethanol production used in feed for livestock and poultry — were the second highest on record in 2018, totaling 11.88 million metric tons, according to the RFA.
An estimated 31% of U.S. distillers grain production was exported in 2018 or nearly one out of every three tons produced was exported to 50 countries on six continents last year. Mexico remained the top destination for U.S. distillers grain, representing 17%, followed by Vietnam at 11%, South Korea at 10%, Thailand at 9% and Turkey at 7%. Compared to 2017, Vietnam and the U.K. saw the most growth in U.S. distillers grain imports, increasing purchases by 306% and 52%, respectively.
During May, there have been various celebrations and recognition ceremonies about Nebraska's ethanol industry.
"We know we have to share our story with the consumer," said Jan tenBensel, chairman of the Nebraska Ethanol Board and afarmer from Cambridge. "There truly are many myths going around about the ethanol industry, and we want to be able to set the record straight. Renewable Fuels Month gives us this opportunity.
Back to News