Back to News
Ricketts Receives "High Octane Champion" Award from Nebraska's Ethanol Industry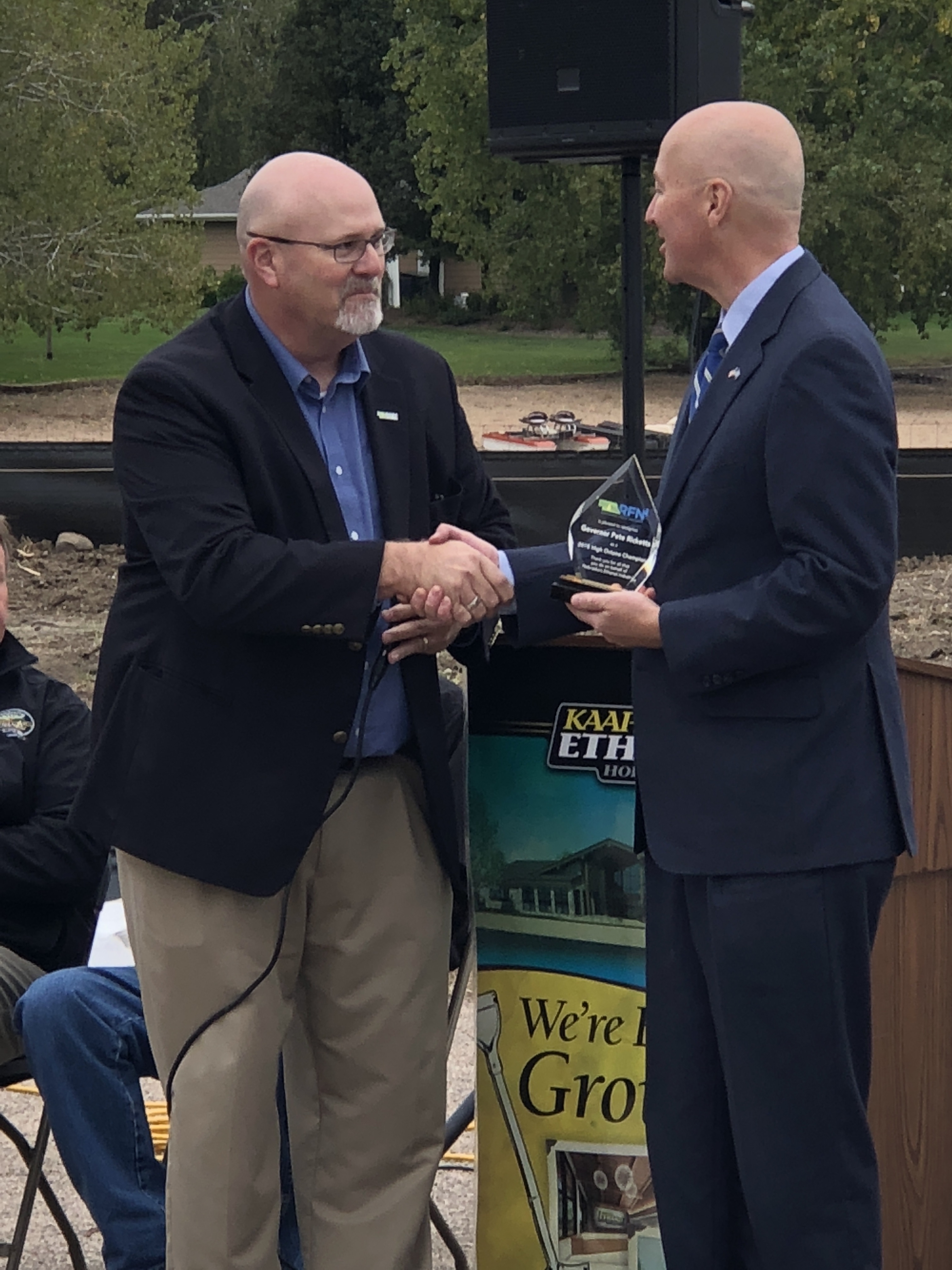 Governor Ricketts receives High Octane Champion award from
RFN's Executive Director Troy Bredenkamp
KEARNEY, NEBRASKA, October 1 – At a ceremony at the site of KAAPA Ethanol Holding's future headquarters in Kearney, Governor Pete Ricketts has been recognized as a 2018 High Octane Champion by Renewable Fuels Nebraska, the trade association for Nebraska's ethanol industry. The award was developed by the RFN membership as a way to recognize public policy leaders that strongly support Nebraska's $5 billion ethanol industry.
"As Nebraska's ethanol industry, we are pleased to recognize Governor Ricketts as a national leader among his peers on ethanol and biofuels advocacy. In short, he gets it" said RFN Executive Director Troy Bredenkamp. "Whether it is meetings at the White House or frank conversations with the EPA administrator, Governor Ricketts has taken many opportunities to advocate for ethanol and express the benefits of biofuels to the Nebraska and US farm economy. This award is a small token of our appreciation and a way to recognize him for all that he does for us on a regular basis."
Ricketts took the lead on offering up the state of Nebraska to conduct a comprehensive and scientific study to test the use of E30 blended gasoline in conventional, non-flex fuel state vehicles. After over a year of consideration and constant pressure by Ricketts, the EPA announced just last week that the application for the E30 pilot study was approved and can begin. The study will be administered by the state of Nebraska in conjunction with the University of Nebraska and will be completed in 18 months. Much attention will be on Nebraska and this study, with ethanol proponents such as RFN excited at what the data may show and how higher, mid-grade ethanol blends could be used in the future.
"We fully expect this study to show what we already know; that is that conventional, non-FFV vehicles can utilize mid-grade blends of ethanol fuels without any adverse impact to the vehicles, and huge potential benefits to the environment and the US farm economy." said Bredenkamp. "We would not be where we are at without Governor Ricketts leadership on this and many other ethanol issues, and Nebraska's ethanol producers wants him to know we appreciate everything he has done, and continues to do, on behalf of Nebraska and America's ethanol industry."
Renewable Fuels Nebraska represents the state's renewable fuels industry and works to foster its growth. Nebraska is the nation's 2nd largest producer of renewable fuels, with 25 ethanol plants capable of producing over 2.2 billion gallons annually and over $5 billion of activity in Nebraska's rural economy. For more information, visit the Renewable Fuels Nebraska website at: http://renewablefuelsne.org/
Back to News