Back to News
RFN: With Pruitt's departure, now is the time for the EPA to act on E15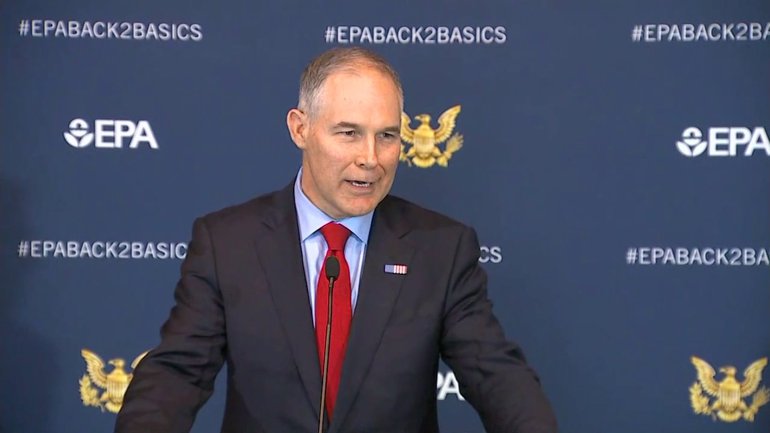 Photo by WPTV.com
Lincoln, NE – In light of today's announcement regarding the resignation of Scott Pruitt as administrator of the US Environmental Protection Agency, it is time for the EPA to act and approve year around E15 sales yet this summer driving season and save Americans millions, said Troy Bredenkamp, Executive Director of Renewable Fuels Nebraska, the voice of Nebraska's ethanol producers. Despite a clear directive from President Trump, Administrator Pruitt had refused to lift outdated restrictions that unfairly limit consumer access to lower-cost fuel blends with 15 percent ethanol. Known as E15, the blend is available in 30 states, but EPA rules bar most retailers from selling it during the summer.
"At a time when oil prices are rising, the EPA under Pruitt failed American motorists during the busiest driving season of the year," said RFN's Bredenkamp. "With millions of Americans hitting the road and gasoline prices surging, the lost savings are taking their toll. The EPA has been talking about E15 for over a year, but under Pruitt had refused to act on the president's request for an E15 fix."
With a typical sale price 5 to 10 cents lower than standard blends, E15 delivers more miles per dollar, while allowing consumers to support Nebraska farmers who harvest the energy-rich feeds for ethanol production.
According to data from AAA, almost 40 million people drive at least 50 miles from home from July 3 to July 8 -- or 100 miles round-trip. Those holiday motorists now pay an average of $2.88, which is 59 cents more than one year ago. Even in new cars, a 5-cent per gallon discount on fuel would immediately put at least $8 million in the hands of today's vacationers.

"With Administrator Pruitt's departure, it is time for the EPA to stop dragging their feet on a simple regulatory change that could benefit motorists in 30 states, where E15 is a popular option during the spring, winter, and fall," said Bredenkamp. "The President and USDA Secretary Perdue want a solution to surging gas prices and E15 can play a large role. We look forward to working with Interim Administrator Wheeler to make that happen."
The call to action by Renewable Fuels Nebraska echoes comments from over 100 business and farm leaders across seven Midwest states, who wrote to federal regulators last month demanding action on E15. The letters were organized by Growth Energy, a leading trade association of America's biofuel producers and supporters.
"Mile after mile, motorists are paying a premium, just so a few oil companies don't have to compete against American farmers in the energy market," said Emily Skor, CEO of Growth Energy. "President Trump promised Midwest lawmakers a fix, and it's time for the EPA to act. There's no reason to cut off millions of drivers from a lower-cost fuel that supports farmers and rural manufacturing."
Back to News