Back to News
Pruitt says he backs E15; ethanol industry calls for him to be fired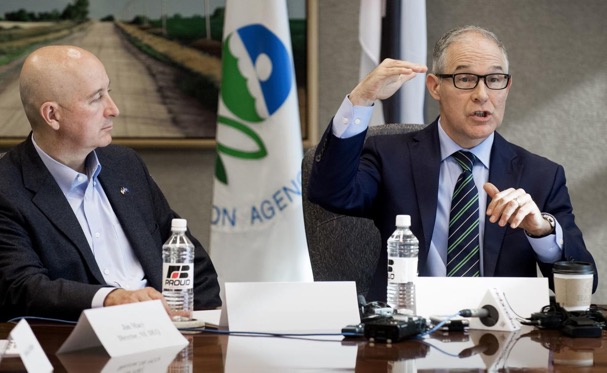 By Chris Dunker - Lincoln Journal Star
Published June 14, 2018
Environmental Protection Agency chief Scott Pruitt offered an unequivocal endorsement for ethanol production to Nebraska ag and business leaders on Thursday, reiterating a Trump administration promise that 15 billion gallons of blended fuel would be produced this year.
Flanked by Gov. Pete Ricketts and Nebraska Farm Bureau President Steve Nelson, Pruitt said he has also directed the EPA to evaluate its regulatory authority for allowing the sale of E15 gasoline blends year-round — a move backed by the governor and corn and ethanol groups.
While the EPA administrator was in Lincoln to discuss a revised Waters of the United States rule that will begin making its way through the rule-making process on Friday, Pruitt's stance and actions regarding ethanol quickly became the discussion centerpiece.
Speaking to the two dozen members of Common Sense Nebraska gathered at Nebraska Farm Bureau, Pruitt blamed delays in changing the rules for when E15 blended gasoline can be sold for causing consternation among the ethanol industry.
Producers tell a different story, however, saying Pruitt plays favorites with petroleum refiners, granting them waivers — passing them out "like candy," they say — to opt out of blending ethanol as part of the Renewable Fuel Standards, which harms farmers and ethanol producers in Nebraska and elsewhere.
Neil Koehler, CEO of Pacific Energy, which operates nine ethanol plants, including two in Nebraska that produce 155 million gallons of ethanol each year, said Pruitt's actions mark a divergence with President Trump, who backed ethanol production on the campaign trail and from the White House.
"We have a rogue EPA secretary who should probably find another job because he's making the president look like a liar," Koehler said in a phone interview Thursday afternoon.
"(Trump) has given what we think is very positive direction to the EPA to be more helpful and to implement the RFS and expand the market for ethanol," Koehler added. "Pruitt is not performing because he is too close to the refiners."
Pruitt's "complete, absurd and liberal interpretation of the smaller refinery hardship exemption" has resulted in the loss of demand for ethanol totaling nearly 1.6 billion gallons, Koehler said, which in turn hurts Nebraska farmers and ethanol plants, like the pair he operates in Aurora.
The EPA chief fought back on Thursday, telling the round-table discussion "a lot of misinformation in the marketplace" had painted him as handing out waivers to refineries who do not qualify.
Pruitt said waivers are only granted to smaller refineries producing fewer than 75,000 barrels a day and that those decisions are based on a review of data collected and analyzed by the U.S. Department of Energy, which in turn makes a recommendation for the waiver to the EPA.
He said the EPA is examining options for changing how the exemptions are applied for and granted, as well as how those exemptions are evaluated.
After Thursday evening's meeting, Ricketts said he backs Pruitt's efforts to find common ground between ethanol producers and oil refineries.
"We heard his full-throated endorsement for E15," the governor said. "But what we're also hearing is there is a dialogue going on between refineries and the ethanol industry with regards to how we move forward on this.
"We want to see that resolved as quickly as possible. But there are also other constituencies involved here as well."
Ricketts also applauded Pruitt's action on the WOTUS rule — which Pruitt said was written for clarity and to partner with states in defining which bodies of water are regulated under the Clean Water Act — as "a breath of fresh air" compared to previous EPA leadership.
"The original Clean Water Act was written for us to be partners in this and that's what we're really looking to do," said Ricketts, who acknowledged he had not yet reviewed the new definition. "Nobody cares more about our water, our air and our land than us in Nebraska."
Pruitt did not take questions from the media.
Back to News